Embarking on an initial teacher training programme is a remarkable journey, laden with moments of inspiration and challenge. The sense of challenge was probably quite high for a lot of our Associate Teachers at the end of the first term of the year, with the days getting shorter, the sun disappearing and a seemingly endless torrent of rain showers to dampen moods and test energy levels. But on a particularly grey and drizzly morning in October the buzz of inspiration was in the air as our Associate Teachers (trainees) attended their first "Super Day" of the year, centred around the profound topic of Special Educational Needs and Disabilities (SEND).
At OTT SCITT our innovative, integrated curriculum has the benefit of additional specialist training that we call Super Days. Super Days happen throughout the year, around once a term, and offer a full day being immersed in particularly important topics for educators, such as behaviour, SEND, Diversity, Equity and Inclusion and Social Justice. Super Days are a fantastic opportunity to come together as a group and hear from experts in the field to really develop understanding, confidence and practical strategies in these important and complex areas.
For our Super Days this academic year we are delighted and privileged to be working with The Story Museum, a unique exhibition and education centre nestled in the centre of Oxford.  And on that grey day in October we were welcomed through the drizzle into the magical courtyard space, with lovely murals of bright blue skies and twinkling fairy lights, and up the spiral staircase to The Woodshed, The Story Museum's studio-theatre space.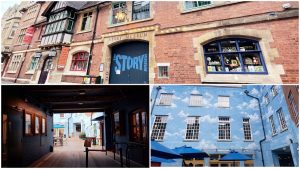 As our Associate Teachers gathered, catching up with each other about their last week of term, questions about SEND also filled the room. Beginning teachers often ask 'how do I effectively support all of the pupils in my class, including those with SEND, in an inclusive but manageable way?', and that question formed the basis of our day.
To enable us to answer it, we enlisted the help of some exceptional SEND specialists: a local Assistant Headteacher responsible for SEND and Inclusion, a Specialist Advisory Teacher for SENSS Communication & Interaction Support Service, and a selection of local parents and carers who shared their experiences of working with schools to best support their children.
Our specialist visitors tackled the important beginner teacher question head on, by leading discussions on identifying common barriers to learning, such as communication, interaction, or literacy difficulties. They shared familiar but powerful teaching strategies such as scaffolding and explicit instruction, with evidence to demonstrate why these are particularly effective techniques for pupils with SEND. We talked about creating inclusive classrooms, knowing your pupils and working with support staff and specialist provision. We were also reminded that inclusive education not only benefits students with SEND, but it enriches the overall classroom experience, promoting empathy, understanding, and a sense of community.
The fantastic parents and carers then talked about how educators can develop their understanding of the whole child, and about their lived experience of being a parent of a child with a special need and working with the school system. One of the parent speakers talked about an article she had written which perfectly sums up the difficulties that parents and carers can be faced with.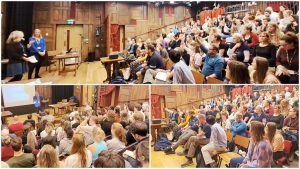 Equipping our Associate Teachers with this deeper understanding of SEND enables them to identify and address diverse needs in their own classrooms to unlock the full potential of every learner, and contributes to a more compassionate and supportive educational landscape. By understanding the diverse needs of students, they can tailor their approach to create an atmosphere where every individual, regardless of their abilities or challenges, can thrive. Beyond that, as educators it is important that we are alert to challenges that parents and carers may face too, and look at ways we can work together to address and remove barriers to learning.
If this sort of inspiration and challenge sounds like something you would like to benefit from in your teacher training journey, then consider applying to one of our courses, starting in September 2024.
Marion Rawlings – OTT SCITT Manager