Have you read OTT SCITT's recent Ofsted report and wondered what sits behind our 'meticulously thought-through curriculum'?
We have developed a programme that incorporates a wide range of evidence-based approaches. This ensures that the training we deliver across Oxfordshire, Wiltshire and Berkshire prepares trainee teachers to be the best professionals they can be.
Great Teaching Toolkit
One of the approaches we incorporate comes from the Great Teaching Toolkit.  This is a set of tools to support and provide 'best bets' for all teachers, not just those who are at the start of their initial teacher training journey.
The Great Teaching Toolkit was developed by Evidence Based Education's Rob Coe, CJ Rauch, Stuart Kime and Dan Singleton in 2020. Their model is based on four priorities for teachers:
Understanding content
Creating a supportive environment
Maximising opportunity to learn
Activating hard thinking
It makes sense, doesn't it! By weaving priorities like these throughout our training curriculum, we give opportunities for our Associate Teachers – the name we give to our trainees – to learn and then apply to their own teaching practice.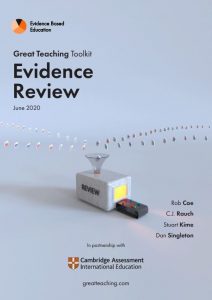 Podcast
The Oxfordshire Teacher Training podcast series has interviewed Professor Rob Coe about the Great Teaching Toolkit. You can listen here to find out more about his twenty year journey from creating a Manifesto for evidence-based education, through the important report What Makes Great Teaching? to his most recent work. Our podcast series includes interviews with many significant educators, both regionally and nationally.
Putting approaches into practice
If you plan to train in Oxfordshire, Wiltshire or Berkshire with OTT SCITT, we will support you to understand the content of what you will be teaching. This will include the kinds of misconceptions pupils may have in your secondary subject or across the variety of primary subjects. We will train you how to sequence pupil learning and how to develop explanations and models for the ideas you will be teaching.
We will teach you effective strategies that create a supportive environment and maximise opportunities to learn, giving you opportunities to practice and gain expert feedback even before you teach children, including through innovative approaches that Ofsted highlighted: 'this provider is at the cutting edge of this work, often anticipating wider developments.'
And we will support you in learning how to activate hard thinking in all your pupils, whether through our Central and Subject Curriculum Sessions, or through your training in placement schools alongside expert Mentors.
Rob Coe and Stuart Kime's new manifesto for evidence-based education (2019) talks about understanding the evidence: whether you are starting your journey as a trainee with OTT SCITT with extensive school experience, straight from university, or after a different career, we want to make sure that you don't just know that some approaches are effective, we want to ensure you do so with authority, having learned, digested and applied to your own teaching practice.